KIND NOTES
Please respect intellectual property rights by providing links, citing sources, and crediting inspiration where appropriate: all of the images on Absolutely Ladylike were sourced, edited & formatted specifically for this site. Please do not use anything without linking back to Absolutely Ladylike

Monday, May 18, 2009
11:50 PM | Posted by Absolutely Ladylike
|
Edit Post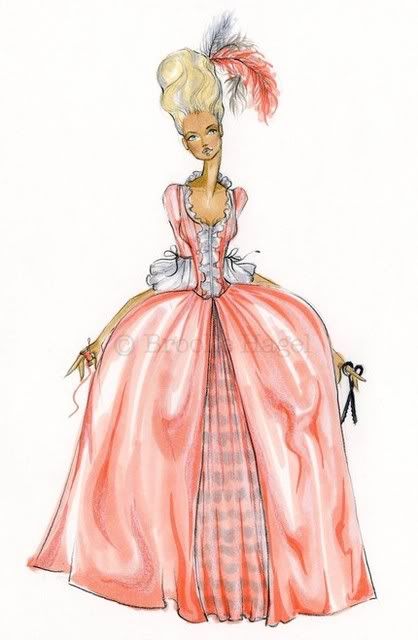 I purchased my first thing on Etsy. I fell in love immediately with this gorgeous

Marie Loves Fashion

draw from Brooklit's Shop. I've decided I will frame Marie and after I've found an honor place to her in my home, I will take a photo and will send it to the artist.


Such a perfect match is this beautiful pink sofa with my Marie. You can find it on Sarah Jane Studio's.

Also

my next target is this lovely corset draw from Wakeupsleep.


My other

favourite was the Pendantic shop. Offering lovely and unique handmade scrabble pendants in a range of styles and colours. They only cost $5.50.
Loved the

Betty Davis

Eyes...


...or this with the bird...


The

absolut

favourite was this one with the funny question about Barbie.


My beloved friends and readers. Thank you so much for the lovely comments and support. Right now I'm dealing with many problems about internet connection and computer. Hopefully things will be back to normal in a couple of days so I can return your kindness. Thanks for understanding. Much love: Evi
Friday, May 15, 2009
9:00 AM | Posted by Absolutely Ladylike
|
Edit Post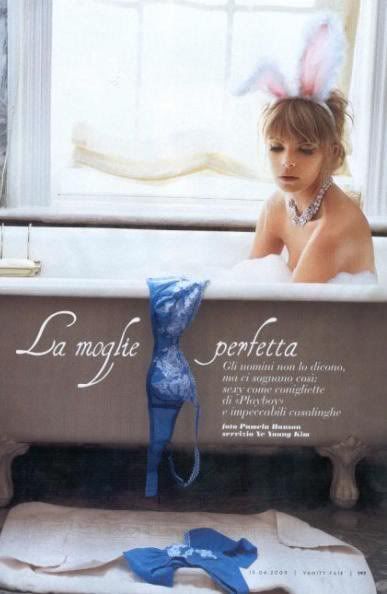 This weekend

, instead of sitting in a bubble bath wiht big bunny ears, and be surrounding by gorgeous lingeries...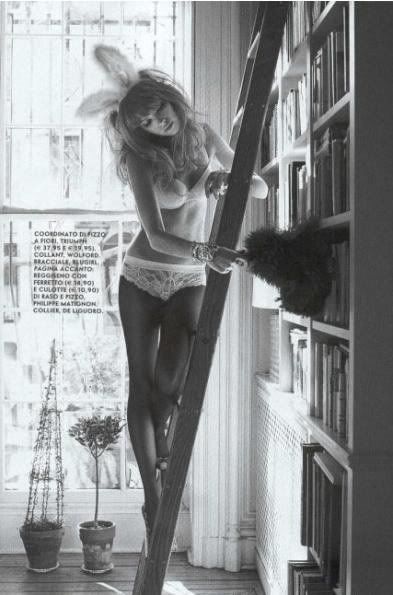 ...

most likely

I will do this...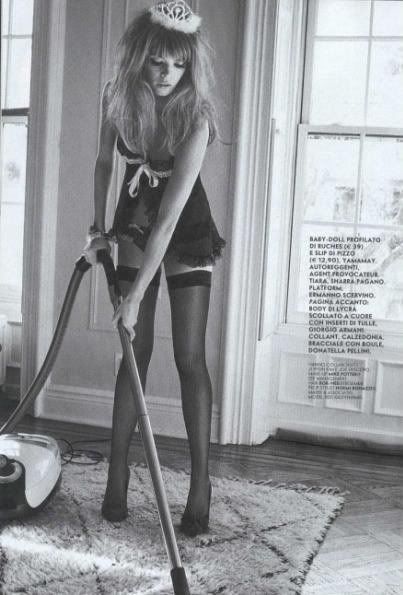 ...and this.

Of course

without luscious bunny ears, princess tiaras or killer tights. Just me, my housecoat and the vacuum cleaner...
Have a Romantic Weekend Dears!
(Oh I wish I could do just this all weekend)


Images: Kastyn Reid for Vanity Fair Italy, via Fashion Pulse
Wednesday, May 13, 2009
3:17 PM | Posted by Absolutely Ladylike
|
Edit Post
I've just seen

Revolutionary Road

yesterday. It's definitely a "must see" movie. Something terrific (again) from Kate Winslet, Leonardo DiCaprio and director Sam Mendes. Also the fabulous Kathy Bates appears on the screen. If you have it on dvd watch the "Making of Revolutionary Road" after the movie. The director and the actors are talking beautifully about how the movie was made. Ps. Prepare some wine and tissues for the movie...
Note to myself: Don't post anything about wine and tissues on Wednesday.
Saturday, May 9, 2009
11:48 AM | Posted by Absolutely Ladylike
|
Edit Post
The very talented and wonderful fashion designer

Mary Jo Matsumoto

was kind (and brave) enough to feature me on her fabulous Trust Your Style blog. Check out her interview with me here.
Thanks so much Mary Jo, I'm not sure if I'm stylish enough for your excellent taste but I'm happy for being choosen.


Some

delicious

new texiles from Mary Jo Matsumoto's fabulous new line. I was in love with it at first sight. For more gorgeousness check out her webpage here.
The Chocolate Starfish.

Simply perfection

.

Images from:
www.maryjomatsumoto.com
,
www.trustyourstyle.com
Thursday, May 7, 2009
9:45 PM | Posted by Absolutely Ladylike
|
Edit Post
I still can't get over on these beyond beautiful images from the

2008 Pirelli Calendar

. These pictures are especially kind for my heart, because they were taken in Shanghai.


The 2008 Calendar was set entirely in

Shanghai

:


...
the

picturesque streets of the old French Concession, the splendid gardens of the former British Legation...


... the

mysterious

and sensual atmosphere of forbidden China...


...
the

convulsive

Nanjing Road and the characteristic tea houses constitute the background for the camera shots that were graced the 12 months.


The twenty-three intense

portraits

recount the pomp of ancient China,
...with it's splendour and the colours in which the

Oriental

myth of female beauty - perfection, purity, grace - is searched out.
"I think. Many

Chinese women

are graceful, I think we have an inner grace that's more rare than you find in the West." affirmed Maggie Cheung, the well-known Chinese actress.
The thirty-fifth edition of "The Cal", the first ever realized in Asia, is an exceptional visiting card to bring the world of Pirelli to the public of the Orient.
Photos by the legendary Patrick Demarchelier.
Wednesday, May 6, 2009
7:49 AM | Posted by Absolutely Ladylike
|
Edit Post
I will have my

first

day at work tomorrow. I choosed this image because I have pretty much the same

proudness

on my face, like Amber Valletta has in this (by the way gorgeous) Versace suit. Yes I'm proud of myself. I will tell more details later, about that

pretty

little gorgeous

business

I'm pulling together. I know it will not be easy but I'm

dangerously

in

love

with the whole idea from the first

moment

it popped into my mind. So, from now on it's really difficult to stop me...
Wish me luck and courage on my way.

Image: Amber Valletta for Versace
Tuesday, May 5, 2009
9:00 AM | Posted by Absolutely Ladylike
|
Edit Post
It's

contagious

and I caught it.

Follow

me on

Twitter

folks. I'm not figured out what is it good for (really), but I love it that's for sure.

Click here

to see my profile on Twitter:


Tell me

what do you use Twitter for and give me some good tips please!
Ps: I'm jumping for

joy

to see new followers on my blog, I'm on my way to check out your blogs :-)
Sunday, May 3, 2009
7:04 PM | Posted by Absolutely Ladylike
|
Edit Post
"

Making

the decision to have a child is momentous. It is to decide forever to have your heart go walking around outside your body." Elizabeth Stone
"
When

you are a mother, you are never really alone in your thoughts. A mother always has to think twice, once for herself and once for her child." Sophia Loren
"
Let us

be grateful to people who make us happy, they are the charming gardeners who make our souls blossom." Marcel Proust
"
Being

a full-time mother is one of the highest salaried jobs...since the payment is pure love." Mildred B. Vermont
"
My mom

is a neverending song in my heart of comfort, happiness, and being. I may sometimes forget the words but I always remember the tune." Graycie Harmon
Happy Mother's Day.


Images: Angelina Jolie and Brad Pitt, photo by Steven Klein, 2005
BLOG ARCHIVE

SEASON'S FAVORITES

BOOKSHELF

DESIGNER LOVE
SHOE LOVE
CHIC LINKS
INSPIRATIONAL BLOGS

FASHION BLOGS

BEAUTY BLOGS
WEDDING BLOGS
INTERIOR & DECOR
PERSONAL BLOGS
ETSY LOVE