KIND NOTES
Please respect intellectual property rights by providing links, citing sources, and crediting inspiration where appropriate: all of the images on Absolutely Ladylike were sourced, edited & formatted specifically for this site. Please do not use anything without linking back to Absolutely Ladylike

Friday, June 26, 2009
2:24 AM | Posted by Absolutely Ladylike
|
Edit Post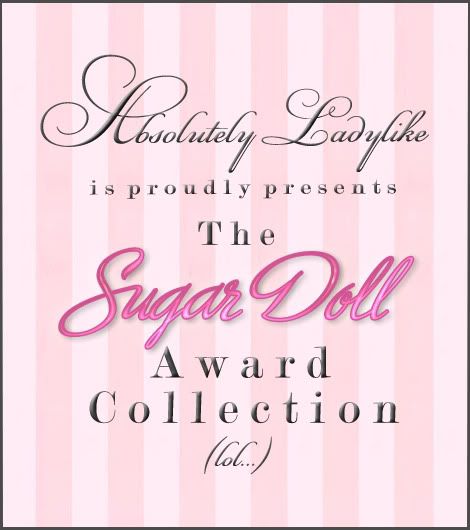 I finally finished the Blogger Awards. The width of the images are 220 pixels so they must fit into your sidebar. You can resize them but use a decent program for it, cause the fonts can get blurry. Save them and surprise your blogger friends.
And d
on't be so hard on me please I opened Photoshop first time in my life probably a week ago :-) So I know they are not perfect, however I enjoyed making them a lot and I hope you going to like them.


Sexy and Lovely Blogger Award. It's so bad the fonts are blurred on the Sexy Blogger Award after I downloaded to Blogger but that's just the way it is. Lovely Blogger Award was inspired by all of you and Sexy Blogger Award was inspired by Frou Frou Fashionista Luxury Lingerie Blog.
The Sugar Doll and Creative Blogger Award. The Sugar Doll Blogger Award is definitely one of my favourite and it was inspired by Liz over from It's Unbeweavable.

Surprise your favourite cooking blog with a Delicious Blogger Award. Isn't it lovey
?
Glamorous Blogger Award and the first Absolutely Ladylike Blogger Award. Hope you like it :-)
And yes two more Ladylike Award. Don't get me wrong it's not a self promotion but I really wasn't sure which one you gonna like the best :-)
Blah...I'm so tired. Right now I'm sitting with a glass of wine LOL. Give me some feedback Dolls. I tagged those bloggers who inspired me about different award styles but of course every single award goes to all my beloved readers. Yes All Of You!
Because you are fabulous!
(and sexy, lovely, delightful, stylish, creative, delicious and of course absolutely ladylike)

I used free fonts and graphics for every images. Except the PF Champion Script Pro font which is the font I used on my header as well and I purchased it. If you like me to remove some of the graphics or fonts from the images please contact me.